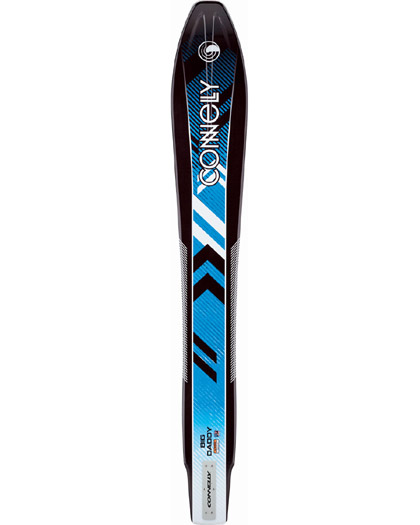 Connelly Big Daddy Slalom Ski
Print Full Specs
Connelly Big Daddy 2017, is an oversized water ski for the beginning water skier learning to get up on a single for the first time, or for under powered boats, big guys, bad backs, or for someone who just wants to cruise behind the boat at low speed.

This big slalom water ski has Tracking Ridge System and Fin that allows for stable and effortless deep water starts. At 69'' in length and a 10'' fore body tapering to a 5'' tail (550 square inches of surface area) Makes this ski extremely forgiving at 28 mph and slower. If you are 220 lbs or above you will really love what this oversized water ski has to offer.

Binding Options:
Lace bindings are higher end bindings, but may not fit you if you have super big feet. The economical Rear Toe Strap (RTS) option may not fit you either. We recommend the front velcro binding with adjustable RTS because it fits biggest and widest feet.
---