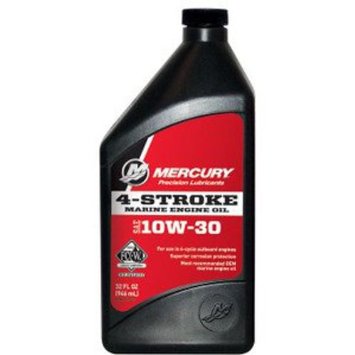 Mercury 4-Stroke 10W-30 946ml Outboard Oil
Print Full Specs
Specifically formulated and developed to meet the needs of: All 4-stroke outboard engines.

Developed for the rigors of the marine environment. 
Industry-leading corrosion protection.
Features premium-grade synthetic and mineral-based stocks with specially designed marine grade additives not required in automotive oils. 
Outstanding lubricity for internal engine components to reduce wear, scuffing and scoring.
Excellent running quality and long-term reliability.
Rigorously tested to guarantee warranty protection for Mercury and Mariner 4 Stroke outboards.
Available container sizes: 1 Litre, 4 Litre, 208 Litre.
---