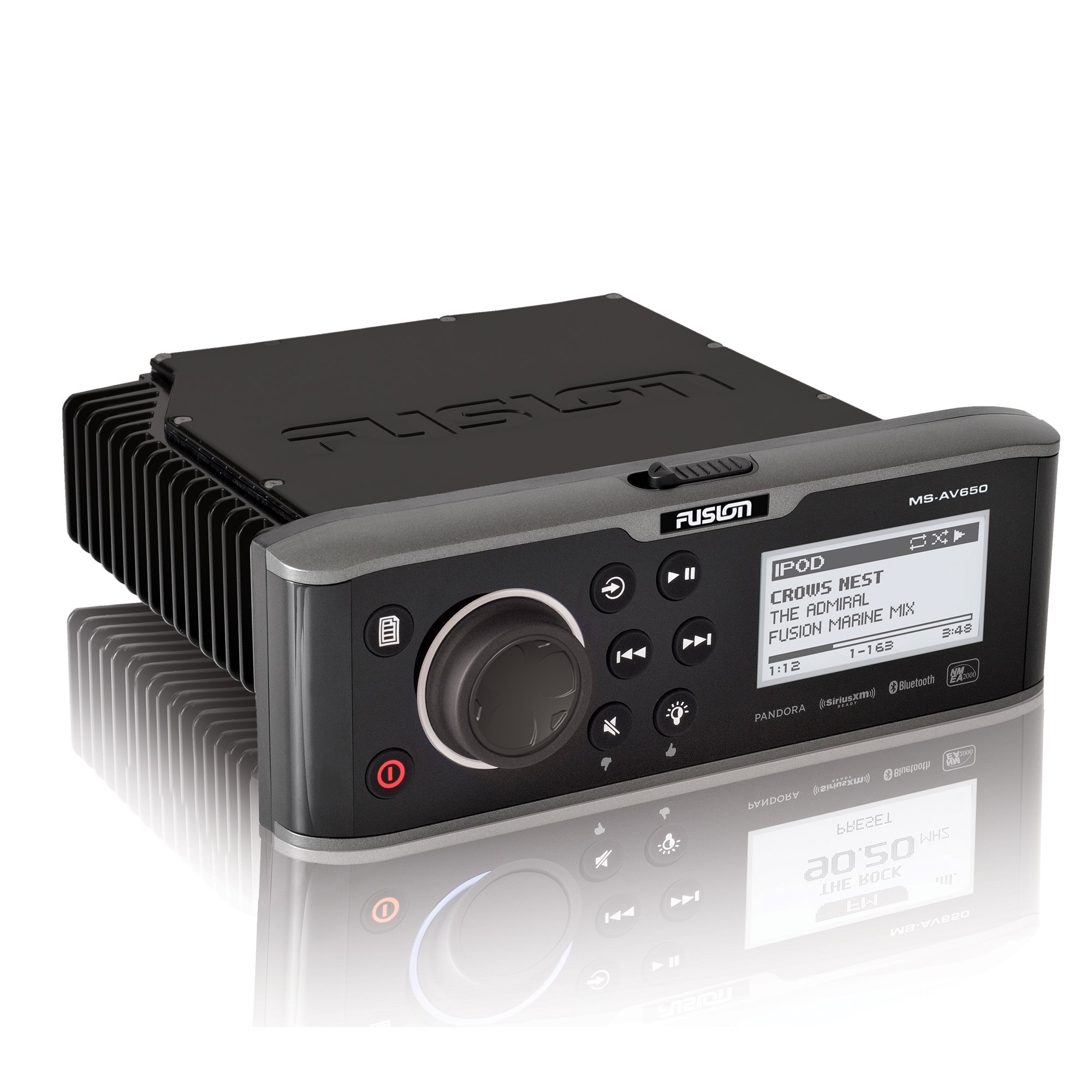 Fusion AV650 Marine Stereo Package
Print Full Specs
With the constant evolution of entertainment technologies, FUSION continues to dominate the forefront of the sector, pioneering integrated systems for your favourite media devices.
Introducing the FUSION MS-UD650 Entertainment System with an internal, water resistant UNI-Dock for safe charging and playback of the latest Apple iOS and MTP Android/Windows media devices. Bluetooth A2DP audio streaming capabilities, Pandora radio and FUSION-Link NMEA 2000 connectivity make the 650 series an all-in-one and purpose-built solution for entertaining on the high seas. 
Sources: AM / FM / Bluetooth / USB x 2 / AUX x 2 / iPod / iPhone / MTP / SiriusXM Ready
Features:
Internal UNI-Dock – Securely protect and charge and compatible Apple iOS or MTP Android/Windows device, while enjoying your favourite soundtrack. 
FUSION-Link® Control (Wired) – Enables direct stereo control from a compatible Multi-Function Display (MFD) or MS-NRX200i wired remote control when utilizing an existing NMEA 2000 network. Visit www.fusion-link.com for compatible MFD's
FUSION-Link Control (Wireless) – Download the FREE Apple or Android FUSION-Link remote control app from iTunes™ or Google Play™ to control the on-board entertainment experience via Bluetooth. Bluetooth app coming soon.
A2DP/AVRCP Bluetooth® Streaming – Stream your family's favorite soundtrack from any compatible device, with track, album and artist info displayed, with navigation available from the stereo or connected device.
Pandora® Radio Support - Enjoy your favourite Pandora radio station, with thumbs up/down control available from the stereo or connected device. Available via USB or Bluetooth
Apple® iOS® and MTP Android™/Windows® Media Playback –Unparalleled support of the world's most popular media devices, and the smartest interface for browsing your music library.
Dual-USB – Internal and Rear accessible USB connectors are provided, to support all your media device requirements. 
Multi-Zone™ Technology – Three independent audio zones are available, each with advanced localized menu controls, including zone naming. Note: Line Out Zones require additional amplification.
Optically Bonded LCD – A widescreen LCD display, optically bonded to improve durability and optimized for daylight viewing.
Class-D Amplifier – Provides higher RMS output than a standard stereo, for louder and clearer audio while drawing less current.
Side-Fin Cooling – Amplifier components are optimally configured for the side-fin aluminium heat sink, producing greater thermal efficiency.
Glass Filled Composite Chassis – Structurally rigid and incredibly lightweight, this improves environmental protection and electrically isolates the chassis for complete reliability.
True-Marine Designed and Engineered – Extensively tested to perform in the harsh marine environment.
---